Papaya Spray Oil
Regular price

$0.00

Sale price

$30.00
Content: 200ml
Papaya tan accelerating oil is great for developing a base tan for all skin types, and excellent for fair skin that tans with difficulty. Damaged skin will also benefit from this tan accelerator because it contains papaya oil, which is rich in antioxidants that combat free radicals resulting from UV rays. Not only does it contain the natural tan accelerator L-Tyrosine to stimulate tanning, but it smells gorgeously fruity and contains henna, which enhances your colour to gold and prolongs the life of your tan.This comes in a spray-on bottle for easy application.
Skin Type: Fair/Damaged
Benefits for Skin: Papaya oil contains antioxidants papain & carotenoids, and vitamins A, C, & E.
Have any questions?

If you have any questions, you can visit our FAQ or send us a message at info@carrot-sun.ca
Share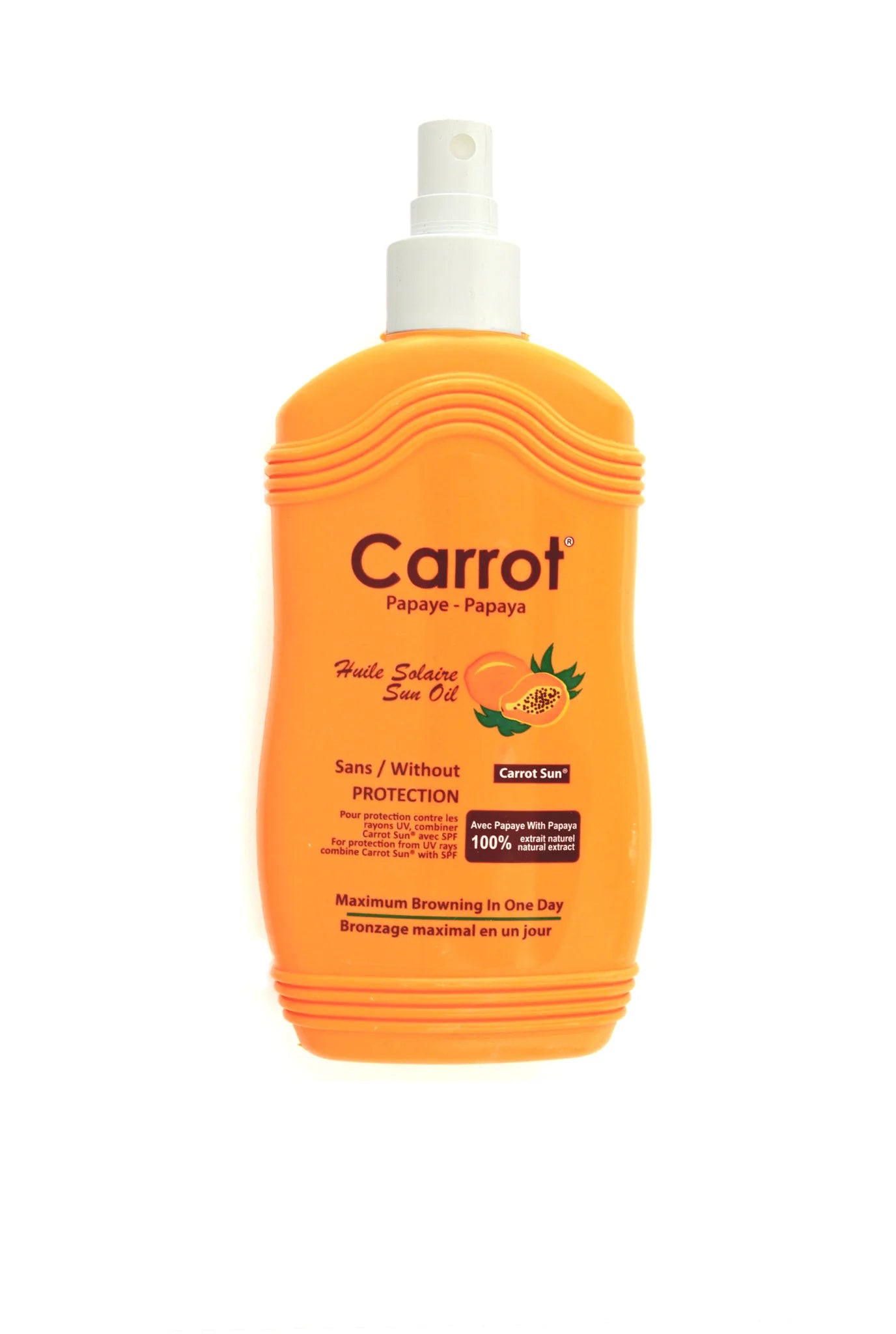 Guarantees
Natural Ingredients

We only use the best natural ingredients.

Carrot Oil

A natural tan accelerator for all skin types.

Natural Process

Our product enhances your natural tanning.

Tanning Results

Develop a deeply rich, golden tan fast.
FAQs
I'd like to get a really dark tan on holiday, which cream can you recommend?

The very best product we can recommend for what you need is the Carrot Cream, and we say that from experience! It will give you the darkest tan and it will be a really lovely colour because of the henna in it. Best of all you will find that your tan lasts longer than usual after you get back from holiday. 
Can I use it on my face?

Yes, you can use it all over your body.
Is it like fake tan/ self-tanner? Is there a chance I might go streaky?

No. These creams do have a type of bronzer called Henna, but it's not at all a fake tan/ self-tanner and will not get you streaky and won't tan you without the sun or a sunbed. Basically, the henna will enhance your tan and make it last longer, but it doesn't work unless you go in the sun or on a sunbed. No matter how you apply it, you should get an even tan.
Will it tan me without the sun or a sunbed?

No, you must be exposed to the sun or use a sunbed in order for it to work.
Are any of the varieties better than the others? How do I choose which one to buy?

We've had a lot of fun testing out all the varieties, and they all work brilliantly! But if you're trying to decide which one to buy, we suggest that you choose one based on what you need.

Carrot- will get you really nice and dark and is for normal skin types 

Coconut- good for sensitive or very fair skin, perfect for getting a base tan

Papaya- has skin healing and regenerative properties, also good for sensitive skin

Cocoa Butter- great for dry skin

Gold- for normal skin

Tropical Fruit- for normal skin

Watermelon- for dry/oil/acne-prone skin

Otherwise, you can choose one based on whether it contains henna or not.

And if you still really can't decide (we know, it's hard!), then we recommend you go with whichever scent you prefer.
Which varieties contain the bronzer henna?

The Carrot, Papaya, Tropical Fruit, and Watermelon varieties.